Top 5 Boca Raton Communities with No HOA
Posted by Stephanie Kukich on Wednesday, January 29, 2020 at 1:25 PM
By Stephanie Kukich / January 29, 2020
Comment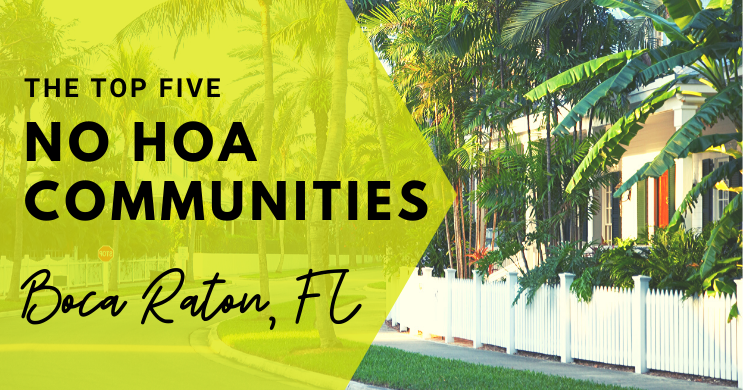 Communities that do not have a homeowners association (HOA) may not have an elaborate gated entrance, shared amenities such as a community swimming pool and clubhouse, or a governing body to enforce community rules and keep your neighbors in check, however, there are several advantages to living in a community with no HOA. One of the main, and perhaps most obvious benefits of living in a non-HOA neighborhood, is that you are not required to pay the monthly HOA dues which can be quite a hefty expense for homebuyers.
Another benefit of living in a community with no HOA is that there is more flexibility to personalize the exterior of your home and to use your property as you see fit. There aren't any rules or regulations that would prohibit you from, say, painting your house purple (if purple houses are your thing), or that would restrict you from having pets or certain types of vehicles at your property.
If you have spent any time searching for a home in Boca Raton you have likely noticed that a majority of Boca Raton neighborhoods do, in fact, have a homeowners association. If you are one of those homebuyers who are searching for a home in a desirable community in Boca without an HOA, you will be relieved to know that there are actually many great communities in the area that do not have a homeowners association.
Here is our list of the Top 5 Boca Raton Communities with No HOA:
1. Boca Villas: Also known as "The Golden Triangle," Boca Villas is one of East Boca Raton's most sought after neighborhoods. This no HOA community is perfectly situated near the heart of downtown Boca Raton, within walking distance to Mizner Park, the Intracoastal Waterway, & the Atlantic Ocean. This popular neighborhood is undergoing rapid redevelopment, with custom-built new construction homes replacing the older homes that once existed in this community.

2. Royal Oak Hills: Royal Oak Hills is a well-established single-family home community located in the heart of Boca Raton, FL. This picturesque neighborhood features charming "Old Florida"-style homes situated along tranquil, tree-lined streets. Royal Oaks Hills is unique in that it has a voluntary HOA, allowing residents to choose whether or not they participate or contribute funds.

3. Spanish River Land: Located in a highly desirable area of East Boca Raton that is just steps from the beach, Spanish River Land is an upscale community that features a diverse selection of custom single-family estate homes. Also known as "The Estate Section," homes in this non-HOA community are located on spacious lots, many of which are situated directly on the Intracoastal Waterway.
4. Boca Raton Riviera: Boca Raton Riviera is an exclusive beachside community that is located on the east side of the Intracoastal Waterway in Boca Raton. A true boater's paradise, many of the homes in this desirable community offer private deep water boat dockage & easy access to the Atlantic Ocean with no fixed bridges. Boca Raton Riviera features a diverse selection of "Old Florida" homes as well as many newer, custom-built estate homes.
5. Old Floresta: Old Floresta is a historic community in East Boca Raton that was originally developed in the 1920s by architectural legend Addison Mizner. With its picturesque streets lined with mature tropical landscape and its gorgeous estate homes, many of which retain their original Spanish-inspired architecture, this unique neighborhood epitomizes the "Old Florida" style & charm popularized by Addison Mizner.

The communities listed above are but a few of the many desirable non-HOA neighborhoods in Boca Raton, FL. We have an entire page dedicated to No HOA homes where you can browse all No HOA homes for sale in Boca Raton & learn more about the various communities that do not have a homeowners association. If you have any questions or would like to speak with one of our outstanding Boca Raton Realtors, please feel free to contact us at 561-998-9015.