Tips For First-Time Home Buyers
Posted by Stephanie Kukich on Thursday, July 25, 2019 at 4:00 PM
By Stephanie Kukich / July 25, 2019
Comment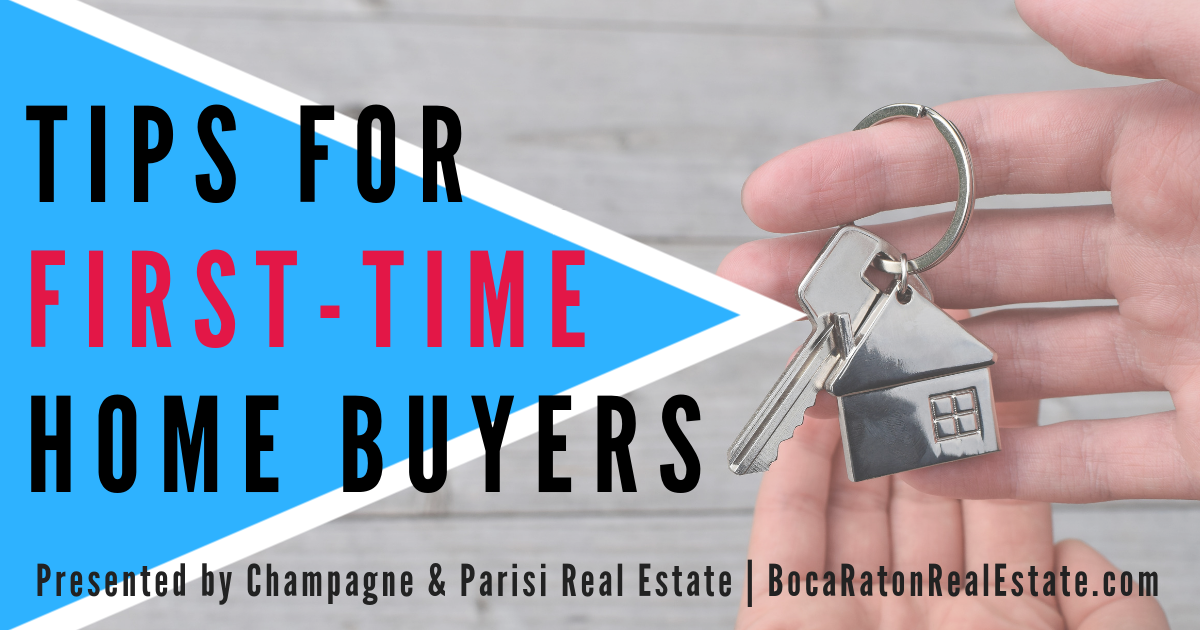 If you are planning on buying your very first home and feeling a bit overwhelmed, know that you are not alone. As a first-time homebuyer, purchasing a home is likely the most important financial decision you have ever made! We at Champagne & Parisi Real Estate understand that buying your first home can be as scary as it is exciting. It is wise to approach the process with caution and to prepare yourself with the right information to help make the things run as smoothly as possible. Fortunately, there is a wealth of knowledge & expert advice available to help you navigate the home buying process.
Below, you will find our list of valuable Tips For First-Time Homebuyers. Following these essential tips will not only help save you time and money but will also enable you to make informed decisions and avoid common first-time homebuyer mistakes. So, before taking the plunge into homeownership, be sure to put our expert tips into practice to pave the way for a successful first-time home buying experience.
1. Begin Saving For Your Down Payment ASAP.
Saving up for a down payment on a home may seem like a huge undertaking, especially considering today's real estate market and the home prices in Boca Raton. Many home buyers mistakenly believe that it is necessary to put 20% down; however, many lenders now accept much less. There are also various first-time homebuyer programs that allow as little as 3.5% down. It is important to understand, however, that putting less than 20% down may result in higher monthly payments, as well as the additional cost of private mortgage insurance. At any rate, a down payment (whether it be 20% or 3.5%) can still be quite a hefty amount of money, so it is best to start saving up as soon as possible. This brings us to our next tip:
2. Research Mortgage Programs That May Be Available to You.
Of course, there are the standard, conventional mortgages which are available to most home buyers with decent credit and the ability to make a sizable down payment. However, if a conventional mortgage is not a viable option for you, there are other programs available that may make it easier to buy your first home by offering more favorable interest rates or lower down payment options.
Some programs cater to specific groups, such as USDA loans for homebuyers with low-to-average income buying in designated rural areas, as well as VA loans which offer veterans 0% down home loans with no private mortgage insurance requirement. There are also FHA loans which offer home financing with down payments as low as 3.5%. FHA loans are a popular choice among first-time homebuyers who do not have enough money saved to make a significant down payment.
There are a lot of mortgage programs out there, including programs that help first-time homebuyers. You could likely be eligible for one of these programs, so be sure to do your research and know your options.
3. Determine How Much Home You Can Afford.
Before you even start looking at homes, it is essential to take a realistic look at your monthly budget to determine just how much house you can afford. A common mistake first-time homebuyers make is becoming emotionally attached to a particular home or a specific neighborhood that is not a realistic option given their actual budget. This can set first-time homebuyers up for a serious let down when they realize they cannot afford their "dream home" or, perhaps even worse, may lead them to make an emotional decision and spring for a home that overextends their budget.
On a similar note, when determining your price range, it is important that you focus on what monthly payment you can afford, rather than the maximum loan amount for which you qualify. For example, your lender may pre-qualify you for a $350,000 loan, but that doesn't necessarily mean that you can afford the monthly payments that come with it.
Buying a home with a price tag that exceeds your budget will not only restrict the amount of wiggle room you have with your monthly bills and other expenses, but it also puts you at a much higher risk of losing your home if you experience difficult financial times in the future. Nobody enjoys being "house poor," so be realistic when setting the budget for your new home and be sure to stick to it.
4. Check Your Credit Score.
It is vitally important to check your credit report before beginning the home buying process. When applying for a mortgage loan, your credit score will be one of the key factors that lenders consider when deciding whether or not you're approved. Your credit score will also be used to determine your interest rate and the terms of the loan, which can impact you financially for many years to come.
If your credit score is on the low end, it may be wise for you to hold off on applying for mortgage loans and cease your house-hunting efforts. Instead, re-focus your time and energy on taking strategic steps to improve your credit score. Be sure to dispute any errors that may be negatively affecting your credit score and look for opportunities to improve your credit.
Your credit score will greatly affect your financing options and interest rate when buying a home, so it is well worth it to take the time to know exactly where you stand before applying for mortgage loans or looking at homes for sale.
5. Build an Emergency Fund.
It is also a good idea, if possible, to have some extra savings on hand as an emergency fund. It is important for first-time homebuyers to understand that homeownership comes with not only a mortgage payment but also maintenance and repair costs, which can sneak up on you and add up fast! Ideally, your emergency fund should be enough to cover three to six months of living expenses.
6. Find a Top-Notch Mortgage Broker.
As a first-time homebuyer, it is essential that you enlist the help of professionals who are knowledgeable and trustworthy. One of the most important decisions is choosing a mortgage lender. Since this is your first time buying a home, it is likely that you will have many mortgage-related questions. You should choose a lender who is willing to take the time to address your questions and concerns, as well as examine your current financial situation and explain your financing options. It is critical that you choose someone who really knows their stuff and with whom you trust to provide sound financial advice.
Of course, getting an excellent interest rate and favorable terms are very important when choosing a lender, but it is also important that your mortgage broker provides exceptional customer service which includes meeting important deadlines and responding quickly to questions & requests.
First-time homebuyers sometimes make the mistake of getting a mortgage from the first (and only) lender or bank they talk to, potentially leaving a significant amount of money on the table. We recommend that homebuyers shop around with at least three different lenders. Shopping around gives you the opportunity to compare rates, lender fees, and loan terms, as well as customer service and responsiveness.
We at Champagne & Parisi Real Estate highly recommend Lynn Whitefall of Supreme Lending to our South Florida home buyers for all of their home financing needs. With years of experience in the mortgage industry and a steadfast commitment to client satisfaction, Lynn is a dedicated lending professional who you can count on to deliver a positive home financing experience. Lynn ensures her clients fully understand their home financing options and assists them in making the best choice based on their unique situation and long-and-short term financial goals.
7. Get Pre-Approval.
Before you even begin your home search, we highly recommend that you get a pre-approval letter from your chosen lender. Obtaining a pre-approval letter is a straight forward process which can be completed relatively quickly if you have all of the necessary information and documents ready to go.
A loan officer will run your credit report to make sure that you meet their minimum credit requirements. They will also require your tax returns from the past two years, paycheck stubs and w2's, bank statements from the last two-three months, and proof of funds for a down payment. This information is used to verify your income and ability to afford the loan before issuing a pre-approval letter. Once issued, the pre-approval letter will state the maximum loan amount and terms of the loan.
As a first-time homebuyer, it is important to note that "pre-qualified" and "pre-approved" are not the same thing. Being pre-qualified means that you simply have an estimate of what a lender may be willing to lend you based on your income and credit. Having a pre-approval letter in hand shows that you really mean business. A pre-approval letter makes you look much more serious to sellers when you are ready to make an offer and can give you the upper hand over buyers who haven't taken this vital step.
8. Find a Realtor Who is an Experienced Buyers' Agent.
As a first-time homebuyer, it is essential that you take the time to find an outstanding real estate agent, more specifically, an experienced buyers' agent. There is certainly no shortage of real estate agents who would be willing to help you find your first home; however, not all agents are suited for your first-time homebuyer needs.
One of the biggest mistakes that inexperienced or uneducated homebuyers make is going directly to the listing agent when purchasing a home. This is a HUGE mistake! Remember, the listing agent represents the seller NOT you. They cannot offer you any guidance or advice. They have a duty to work on behalf of the seller throughout the transaction, and their goal is to get the seller the most money possible for the sale of their home.
Having an experienced buyers' agent on your side is one of the smartest moves you can make as a first-time homebuyer. An effective buyers' agent will prove to be an invaluable resource as you embark on your journey to homeownership, helping you navigate the entire process from start to finish. Not only will working with an experienced buyers' agent will help ensure that you get the best possible results, but their services typically won't cost you a dime. In most cases, hiring a buyers' agent won't cost you anything because the commission is paid by the seller.
As one of the most trusted real estate firms in South Florida, the expert Realtors at Champagne & Parisi Real Estate are the go-to choice for first-time homebuyers in Boca Raton, FL. Our industry-leading team of buyers' agents is committed to providing a seamless home buying experience for each of our clients, as well as unparalleled personalized service that extends through the transaction and beyond.
It is well worth the time and effort to search for a reputable buyer's agent who not only knows the local real estate market inside and out, but one who also has the knowledge, experience, and patience to guide you through the entire home buying process. You need to work with an agent who you can trust to keep your best interests in mind and to negotiate the best terms on your behalf.
Final Thoughts:
Buying your first home is an exciting milestone in life, but also a huge decision that comes with great financial responsibility. As a first-time homebuyer, it is important that you prepare yourself with the right information to help you make responsible, well-informed decisions before, during, and after buying your first home. By reading our list of expert Tips for First-Time Homebuyers, you have already taken the initial step toward responsible homeownership. Put these tips into practice, and you should be well on your way to a successful first-time homebuying experience! Best of luck!