The 16th Annual Boca Bacchanal Wine & Food Festival
Posted by Stephanie Kukich on Wednesday, March 21, 2018 at 3:50 PM
By Stephanie Kukich / March 21, 2018
Comment
Presented by The Boca Raton Historical Society & Museum
Friday, April 6, 2018 (7pm) & Saturday, April 7, 2018 (7-11pm)
Ticketed Event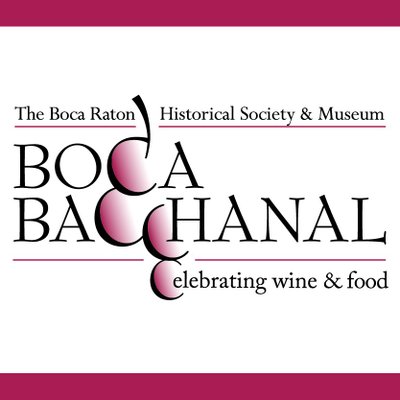 Celebrating its 16th anniversary, The Boca Bacchanal Wine & Food Festival returns on April 6-7, 2018, with yet another incredible weekend filled with exquisite wine and fabulous food paired and presented by some of Boca's very own world-renowned chefs. Presented by the Boca Raton Historical Society & Museum, this annual event brings wine & food enthusiasts together to celebrate and enhance the appreciation of fine wine & cuisine throughout the community. All proceeds from Boca Bacchanal enable the Boca Raton Historical Society & Museum to continue to provide and develop innovative, diverse, and rapidly expanding educational and historic preservation programs for Boca Raton area residents and visitors.
This year's festivities begin on Friday April 6, kicking the weekend off with the highly-anticipated vinter dinners which will be held at private estate-residences and historical locations throughout Boca Raton, including the Boca Raton Resort & Club. Each of these exquisite dining experiences will feature a vinter & chef pairing their cuisine and wine to create an intimate 5-course meal. Attendees will have the opportunity to meet their chef and vinter to learn more about the unique pairings of the evening.
The event continues on Saturday April 7 with Bacchanalia, which will take place at Mizner Park Amphitheater from 7:00-11:00 pm. This must-attend community event combines incredible cuisine from over 30 local restaurants with world-class vinters showcasing their finest wine selections for event attendees to sample. This mouth watering event will also provide exciting entertainment, featuring exotic cars from Excell Auto Group, a DJ playing lively music to accompany the food & wine offerings, as well as a high-tech auction with a range of wines and lifestyle items up for bid.
This one-of-a-kind event is the signature fundraiser for the Boca Raton Historical Society & Museum, providing the community the unique opportunity to support the heritage & historic preservation programs of our local community while also delighting in the finest of local food and wine specialties. Be sure to get your tickets to this incredible weekend in advance and help support the Boca Raton Historical Society & Museum as you simultaneously expand your palate and knowledge of fine wine.
For more event details including schedule of events, chef & vinter info, and ticket purchase, be sure to visit the official Boca Bacchanal Website.