Palm Beach County Real Estate Market Update: September 2019
Posted by Anthony Carriuolo on Tuesday, October 22, 2019 at 2:42 PM
By Anthony Carriuolo / October 22, 2019
Comment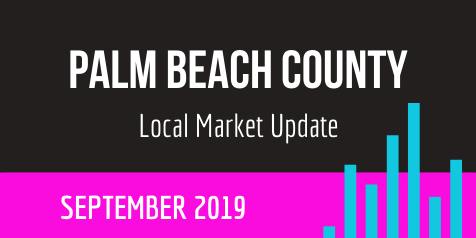 Check out the Palm Beach County Local Real Estate Market Update for September 2019 below. The following real estate market update & performance summary is based on the latest statistics reported by the Florida REALTORS®, providing a year-over-year comparison of 2018 & 2019 market data for the month of September.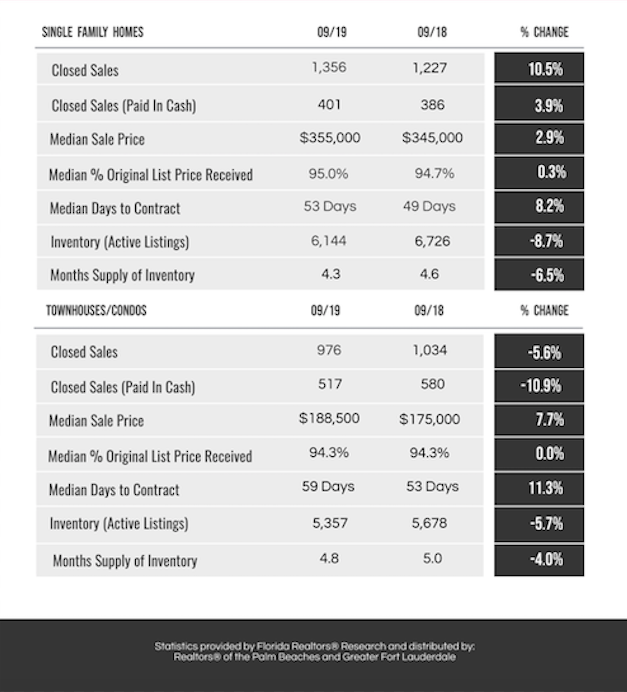 CLOSED SALES
The September 2019 market stats from the Florida REALTORS® reveal that there were 129 more single-family homes sold in Palm Beach County last month compared to in September 2018, representing a 10.5% increase in total closed home sales. On the other hand, the latest market data show that sales for condos & townhomes in Palm Beach County decreased 5.6%, with 58 fewer condo/townhome sales in September 2019 compared to the same time last year.
MEDIAN SALES PRICE
The latest market stats for September 2019 show a median sales price of $355,000 for single-family homes in Palm Beach County, reflecting a slight increase of 2.9% over the median sales price of single-family homes in September 2018 ($345,000). The median sales price of condos & townhomes in Palm Beach County for September 2019 was $188,500, up 7.7% from the median condo/townhome sales price of $175,000 in September 2018.
INVENTORY
The inventory of single-family homes for sale (active listings) in Palm Beach County was down 8.7% last month, compared to the inventory of homes in September 2018. Coinciding with this decrease in actively listed single-family homes, the months of supply of inventory shows an overall decrease of 6.5%, with 4.3 months of inventory in September 2019 compared to 4.6 months supply of inventory available in September last year.
The inventory of Palm Beach County condo/townhome active listings for September 2019 was 5,357, a 5.7% decrease from the 5,678 active condo/townhome listings reported in September 2018. The months of supply inventory for condos/townhomes in Palm Beach County is down 4%, with 4.8 months supply of inventory in September 2019 compared to the 5 months of inventory that was available this time last year (September 2018).
Months supply of inventory is the number of months it would take to sell the current inventory of actively listed properties based on the current rate of property sales in a defined market area or region. This measure can be useful in determining whether a particular real estate market is currently favoring buyers or sellers. Generally speaking, a market that has less than 6 months supply of inventory is considered a "seller's market," while a market with more than 6 months supply of inventory suggests an excess of actively listed properties and therefore would likely favor buyers.
Based on the latest stats released by the Florida REATORS® for September 2019, the Palm Beach County real estate market remains a seller's market, for both single-family homes & condos/townhomes. If you would like to request a FREE Market Analysis to find out the current estimated value of your home or want to learn more about the latest market trends in Boca Raton, please contact the local real estate market experts at Champagne & Parisi Real Estate at 561-998-9015 today!