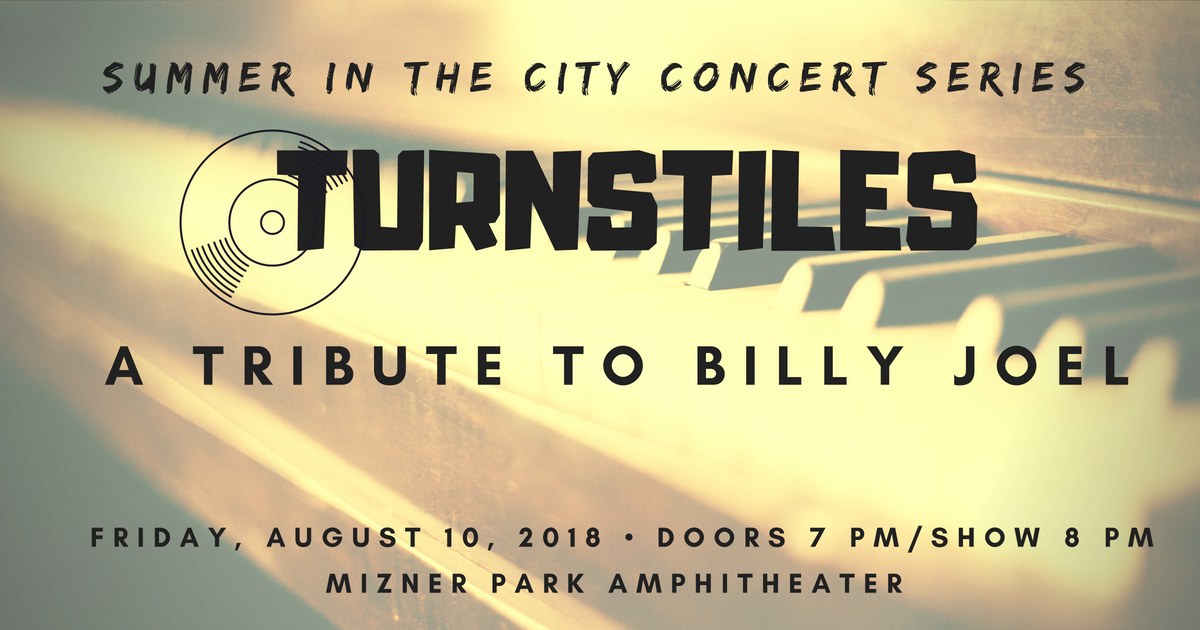 This Friday, August 10, 2018, the City of Boca Raton will host the next FREE tribute concert in the "Summer in the City" concert series line-up at Mizner Park Amphitheater, with an outstanding live musical performance of "Turnstiles: A Tribute to Billy Joel." This family-friendly event is free and open to the public, with doors opening at 7:00 pm and the concert beginning at 8:00 pm. The concert will kick off with a special performance by a surprise musical guest (TBA), sponsored by the Funky Biscuit.
Following the special guest performance, Turnstiles, a critically acclaimed South Florida-based Billy Joel tribute band, will hit the stage with a rockin' performance hailed to be the ultimate tribute to the music of Billy Joel. Tony Monaco, Turnstiles' leading front man & lifelong fan of the Piano Man, became inspired by the musical genius & unique style of Billy Joel when he was just a young budding musician and has since used that inspiration throughout his musical career to grow as a pianist, singer, and songwriter. Never intending to be an "impersonator," Tony's focus is purely on the music and delivering an authentic live Billy Joel musical experience that is second to none. Turnstiles' faithful renditions of Billy Joel's timeless classics will move both casual listeners and hardcore fans alike, promising an awe-inspiring concert experience that will have you singing along and screaming for more!
In addition to the extraordinary live musical performances, the event will feature plenty of family-friendly...