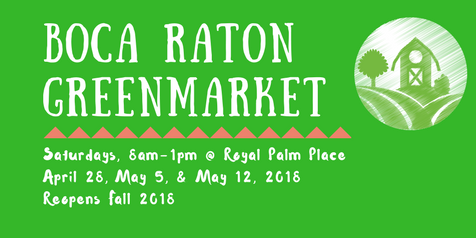 The Boca Raton GreenMarket, Boca's fun & friendly community farmer's market which is held every Saturday from 8 am to 1 pm at Royal Palm Place, is now nearing the end of its season. May 12th will be the last time the GreenMarket will be held before it closes for the summer, which means you only have 3 Saturdays left to attend!
Since it first began in 1996, the GreenMarket has evolved into a popular Saturday morning community meeting place where not only can one purchase a variety of local foods & products, but also chat with friends, listen to music, grab a bite to eat, and spend a few hours outdoors enjoying Boca's unbeatable weather. The market offers an amazing selection of locally grown fruits & vegetables, herbs, skin care items, plants, unique arts & crafts, and more, and is truly a great time for the entire family.
If you have yet to experience the Boca GreenMarket, we encourage you to try to make it between now and May 12th, 2018, otherwise, you will have to wait until it reopens in the Fall. Come experience for yourself why the GreenMarket is now the preferred way to spend a Saturday morning for an ever-increasing number of Boca Raton residents! We hope to see you there!
...