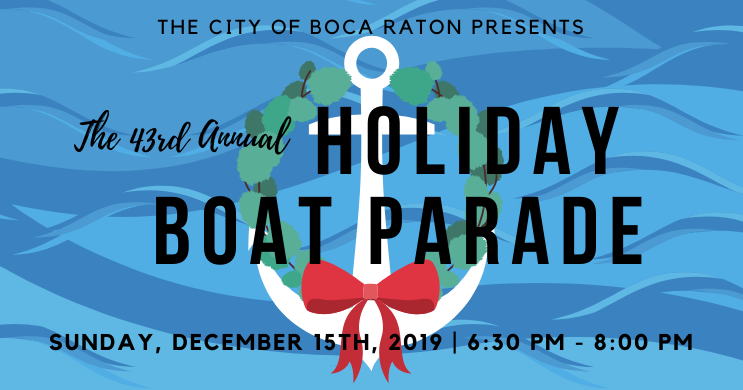 The City of Boca Raton will host the 43rd Annual Holiday Boat Parade on Sunday, December 15, 2019, from 6:30-8:00 pm. This highly anticipated annual event is the perfect way to experience the holiday season in true South Florida fashion! Parade attendees of years past will attest that you can't help but get into the holiday spirit with the festive lights glistening off the water and the holiday music flowing from the lavishly decorated vessels as they make their jolly way down the Intracoastal.
Entry in the boat parade is absolutely FREE, and vessels of all sizes, from kayaks & paddleboards all the way up to large yachts, are welcome to participate. Last year's turnout was absolutely incredible, with more than 30 boats entering the parade and thousands of onlookers! The City of Boca Raton is anticipating this year's holiday boat parade to be just as well attended and perhaps a bit more competitive.
There will be $10,000 in cash prizes for this year's winners, offering boat owners all the more reason to participate in this highly celebrated event. Parade entries are judged based on lights, colors, music, and overall effect. Winners will be determined by point total, with a total of 30 possible points per vessel. Enthusiasm also counts, so be sure to have everyone aboard waving and showing their holiday cheer when passing by the judges' stand! Please complete the ...