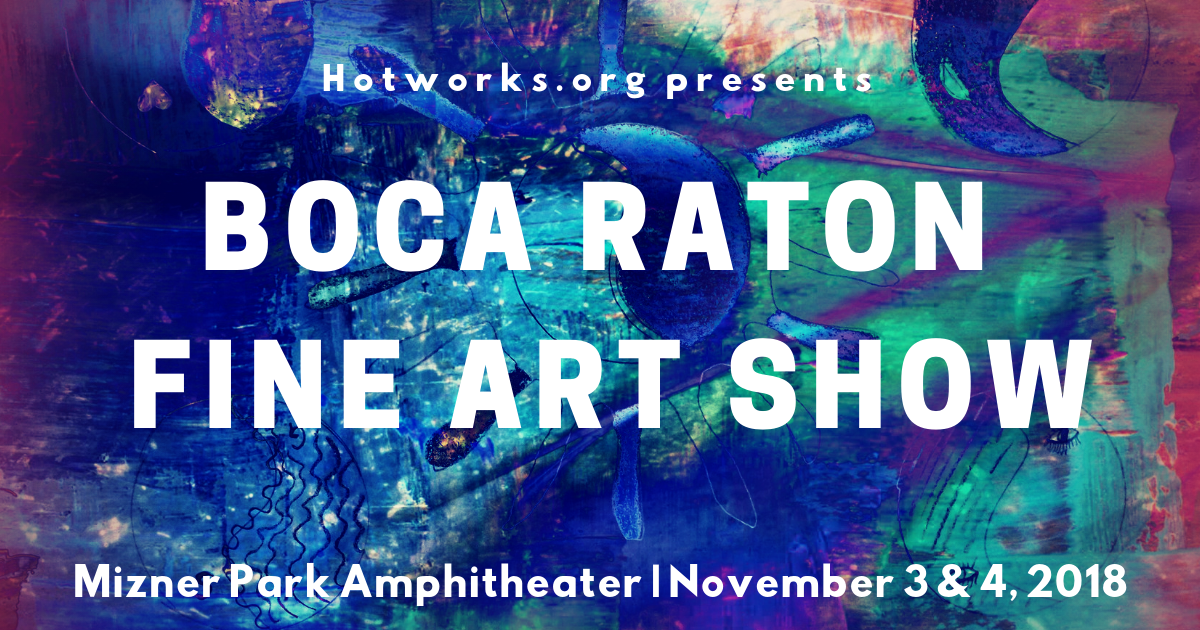 Each year at the end of January Hotworks.org hosts the winter Boca Raton Fine Art Show in Downtown Boca Raton, FL. This critically acclaimed juried art show has grown in both size and popularity since it first began in 2008, and has been voted in the Top 100 art shows in the Nation for three years in a row. Given the success and popularity of the winter show, Hotworks.org is proud to announce that the Boca Raton Fine Art Show is going bi-annual, with a new fall show coming to Mizner Park Amphitheater on Saturday & Sunday, November 3-4, 2018.
Like the winter show, the new fall Boca Raton Fine Art Show is a juried exhibition, with each of the featured artists hand-selected by a panel of experts based on artistic quality, technique, design, & originality. The show will feature up to 175 juried artists of various disciplines who will have their unique, handmade artwork on display and available for purchase. Some of the fine art you can expect to see at the show includes paintings, clay & pottery, photography, sculpture, glass, wood, handcrafted jewelry, and much more. There is sure to be something for everyone, in all price ranges. Visit the Hotworks.org event website for a complete list of all participating exhibitors & the exhibit layout.
Hotworks.org owner/operator, Patty Narozny, also runs a non-profit organization called Institute for the Arts & Education, Inc. (IA&E) whose purpose is to "educate and promote Fine Arts and Crafts among all artists and students, of all age groups and diversity, and to the general public." As part of their commitment...