Fall Boca Raton Fine Art Show | November 3 & 4, 2018
Posted by Stephanie Kukich on Wednesday, October 31, 2018 at 4:31 PM
By Stephanie Kukich / October 31, 2018
Comment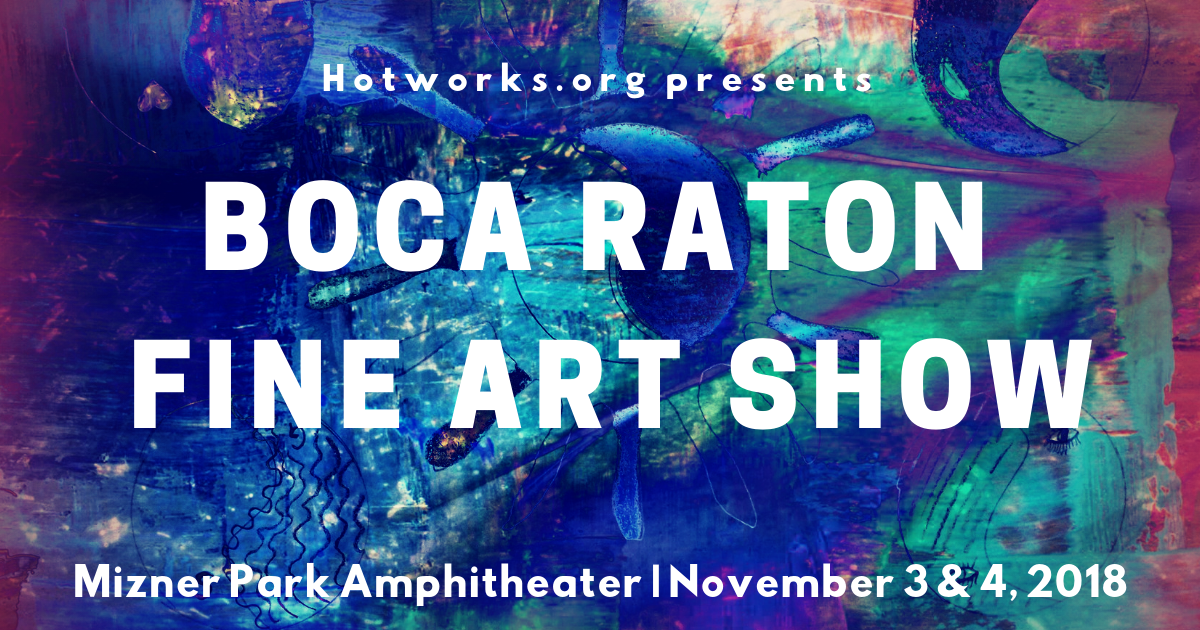 Each year at the end of January Hotworks.org hosts the winter Boca Raton Fine Art Show in Downtown Boca Raton, FL. This critically acclaimed juried art show has grown in both size and popularity since it first began in 2008, and has been voted in the Top 100 art shows in the Nation for three years in a row. Given the success and popularity of the winter show, Hotworks.org is proud to announce that the Boca Raton Fine Art Show is going bi-annual, with a new fall show coming to Mizner Park Amphitheater on Saturday & Sunday, November 3-4, 2018.
Like the winter show, the new fall Boca Raton Fine Art Show is a juried exhibition, with each of the featured artists hand-selected by a panel of experts based on artistic quality, technique, design, & originality. The show will feature up to 175 juried artists of various disciplines who will have their unique, handmade artwork on display and available for purchase. Some of the fine art you can expect to see at the show includes paintings, clay & pottery, photography, sculpture, glass, wood, handcrafted jewelry, and much more. There is sure to be something for everyone, in all price ranges. Visit the Hotworks.org event website for a complete list of all participating exhibitors & the exhibit layout.
Hotworks.org owner/operator, Patty Narozny, also runs a non-profit organization called Institute for the Arts & Education, Inc. (IA&E) whose purpose is to "educate and promote Fine Arts and Crafts among all artists and students, of all age groups and diversity, and to the general public." As part of their commitment to promoting art education and artistic development within the local community, young budding artists (grades K-8) from local schools are encouraged to submit their original artwork to be displayed at the show and entered into the "Youth Art/Budding Artist" competitions. Winners will receive cash prize awards as well as the signature Hotworks Award ribbons at a separate award ceremony which will be held on Sunday afternoon.
In addition to the diverse selection of fine art on display, the fall Boca Raton Fine Art Show will feature a variety of live entertainment throughout the weekend. World Champion competition drummer, Ken Mazur, will be performing his Hot Metal Groove for the duration of the show. Guests will also enjoy live musical entertainment provided by Ron Harkrader & the unique sounds of the Pennsylvania "Handpan", performed by Janet Spahr.
The event will be held from 10 am - 5 pm daily on Saturday & Sunday, November 3 & 4, 2018 at Mizner Park Amphitheater. Mizner Park Amphitheater is located at 590 Plaza Real, Boca Raton, FL 33432. Additional venue info & answers to Frequently Asked Questions can be found at the Mizner Park Amphitheater website or by calling 561-393-7890. Please visit the Hotworks.org website to learn more about the new fall Boca Raton Fine Art & Craft Show or other Hotworks.org upcoming art shows.
Be sure to mark your calendars and come see for yourself why the Boca Raton Fine Art Show presented by Hotworks.org is voted in the top 100 art shows in the country. We at Champagne & Parisi Real Estate look forward to seeing you there!