We are certainly not wanting for good cuisine in Boca Raton. You could probably dine out for dinner every evening in Boca Raton and never tire of what we have to offer. Nevertheless, you didn't buy that seaside home to use its impressive kitchen as a place to pour wine. Well, we'd hope not! For the proud members of the culinary cohort, here are some of the best kitchen accessories for the modern Boca home.
Vitamix Food Cycler FC-50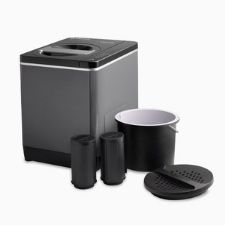 There's no shame in admitting that you can't finish your plate, but what if your plate was already leftover? You can toss it in the trash, but wait a couple of days and the smell will remind you that it's time to trek out to the mosquito den that is your city-issued garbage can. Simply place your unused food waste in the FC-50 and it will break it down to 10% of its volume and store it safely and unobtrusively thanks to its carbon filtration system that eliminates odors. When your FC-50 is full, you now have nutrient-rich and chemical-free fertilizer for your soil! As far as modern kitchen tools go, this is useful inside and out.