Boca Raton Beach & Park District Officially Names Briann Harms New Executive Director
Posted by Anthony Carriuolo on Thursday, September 26, 2019 at 4:51 PM
By Anthony Carriuolo / September 26, 2019
Comment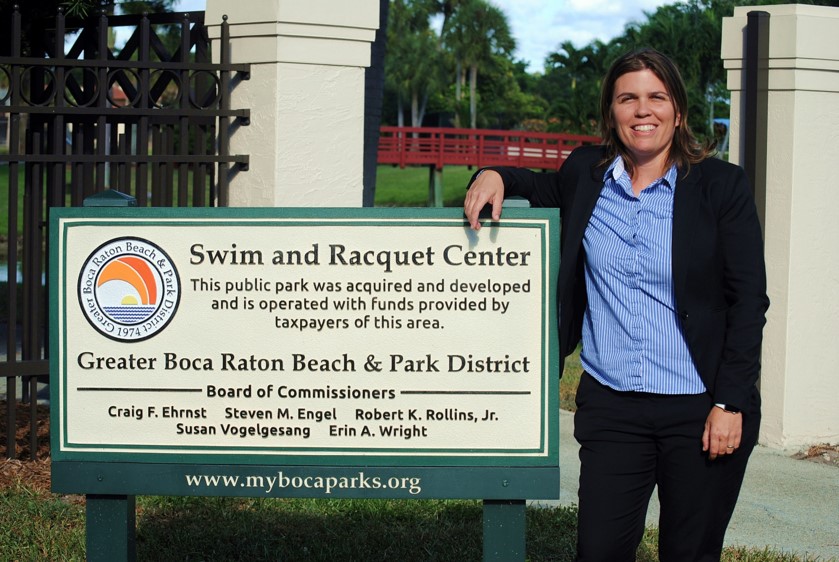 Author: Melissa Dawson
Contact: mdawson@mybocaparks.org
BOCA RATON – The Greater Boca Raton Beach and Park District removed the "Interim" tag from Briann Harms' job title, officially promoting her to Executive Director.
"Briann's dedication to the Boca Raton community and her effectiveness as the interim made this an easy decision for us," Commission Chairperson Susan Vogelgesang said. "She stepped into the Executive Director position and met or exceeded all expectations, proving to be a tremendous asset for the Boca Raton community."
Harms quickly proved herself as an effective leader during a results-filled nine months as the District's interim director.
During her tenure as interim, which began in January, the District resurfaced the tennis courts and playground at Patch Reef Park and recently finished installing three environmentally friendly artificial turf fields there. The District also renovated the batting cages and added shade structures at Sugar Sand Park, and completed Swim and Racquet Center construction, giving the District a new home for its offices and meetings.
Harms led the effort to improve the District's interactions within the community by improving its website user experience and upgrading technology designed to provide easier and more complete access to board meetings. She is also spearheading the District's Boca National golf course project which, when complete, will give Boca Raton a public facility second to none.
"I am excited about the opportunity to continue working with the Board of Commissioners in service to our residents. The District has a long history of providing first-class facilities and amenities to enhance the recreational experience of our community and it is a pleasure to be selected to continue that commitment," said Briann Harms.
Prior to being elevated to the director position, Harms served as the District's assistant director from 2013 through 2018, during which time she worked as a liaison between the District and the City of Boca Raton, managed construction projects, and reviewed budget submissions prior to reporting to District commissioners.
A graduate of Florida State University with a degree in Interdisciplinary Social Science, Harms is also certified in records management by the Florida Department of State and is trained in FEMA emergency management.
Prior to joining the District, Harms spent eight years working for the City of Boca Raton in its Recreation Services Department, earning the City's 2013 Supervisor of the Year award.
ABOUT THE GREATER BOCA RATON BEACH AND PARK DISTRICT: The District is committed to the acquisition and development of parks and recreation facilities. It seeks to provide entertaining and engaging leisure, educational, athletic and cultural activities to all of its residents and guests. The District owns multiple recreational facilities and/or parks in the Boca Raton area, including Sugar Sand Park, Patch Reef Park, the Swim and Racquet Center and Ocean Strand. In addition, through interlocal agreements with the City of Boca Raton, it funds the operating expenses of the Gumbo Limbo Nature Center, Red Reef Park, Spanish River Athletic Facilities and Mizner Bark Dog Park.