A Complete Guide For New Residents Of Boca Raton | Where To Start On Day 1
Posted by Anthony Carriuolo on Monday, January 9, 2023 at 8:00 AM
By Anthony Carriuolo / January 9, 2023
Comment

Alright! You've made it. The car is here, the boxes are coming off the truck, and you hold the keys to your beautiful Boca Raton home. Congratulations! Now what? We help you unfurl your banner and begin your new life as a Boca Raton resident, starting with these helpful tips to acquaint yourself with our town. From the second your feet hit the ground to the first day of school, here are a few important considerations to go through step-by-step so you can land softly and live well.

Knowing Your Surroundings
Boca Raton has 9 zip codes, and like many South Florida communities, is organized around a few unifying landmarks. The first, and most important is the Atlantic Coastline. Similarly to most cities in the United States, affluence and luxury tend to huddle near the coastlines. East Boca Raton can largely be considered territory east of Dixie Highway, and downtown Boca. Downtown Boca Raton occupies the southeast corner of the city limits, noted by its historic buildings such as Old City Hall, which now serves as the Schmidt Boca Raton History Museum. Furthermore, downtown is noted by the presence of mid and high-rise condos, high-end restaurants, and the numerous drawbridge that line the barrier island where our beaches are seated upon.
Central and West Boca offer much more space, selection, and services for young and growing families. For some, the idyllic American dream is a single-family home with a backyard, maybe a pool, a dog, and a family. The homes in Central and West Boca make this possibility a reality and offer more to larger living groups than the amenity-rich condos and waterfront homes of East Boca.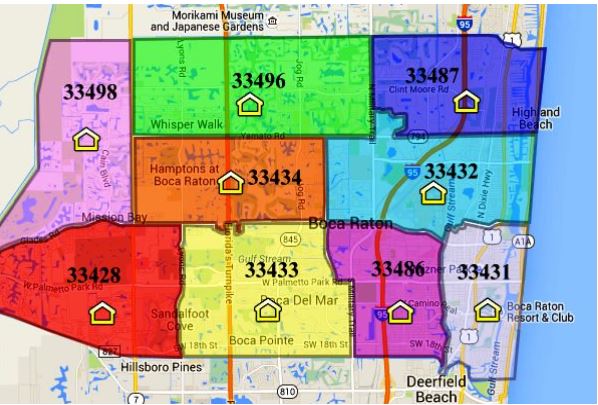 Water is a major part of our lifestyle here in Boca Raton, and not all waterfront homes are directly on or across from our shoreline. Our Intracoastal canal network provides numerous opportunities to live the waterfront lifestyle without a direct presence on the beach. The Intracoastal waterfront homes offer everything from enormous properties with dockage fit for a yacht, to quaint cottages and townhomes.
When speaking with your Realtor, be sure they have the regional knowledge to attune your needs to the right property. After all, what works for a family looking to be near the best schools in the area, might not be the best choice for a retiree looking to live a resort-style life.

Dialing Into The Essentials

So you've chosen your residence and it's time to dial in. You're going to need internet, cable, water, power, and scholastic or medical support depending on where you are in life.
Internet & Cable - The vast majority if not all homes in Boca Raton rely on either Comcast or AT&T for its high-speed internet services. Some condos or HOAs will include cable in their fees, so be sure to avoid overspending and locking into an internet plan with redundant services you're already paying for.
Power & Water - Palm Beach County has its water utilities service including where to pay bills. You'll need to be set up with the water utilities before unfolding the rest of your life in Boca Raton. Click HERE to get started. Power is delivered from Florida Power & Lighting (FPL), which cover the vast majority of Florida, including all of the tri-county area. FPL is quick and easy to set up and is one of the better power management companies in the U.S.

Click HERE to visit FPL and open your account.

Getting Around Town
While Boca Raton, especially downtown Boca has excellent pedestrian and cycling corridors, the majority of cyclists, at least participate for fitness and not transit. Living in some areas, such as the 200 East Condo, Boca Raton Riviera, or Camino Gardens puts you at the center of this pedestrian-friendly region, but there aren't many regions in Boca Raton in which major access to your needs will be tenable on foot or by bike. West Boca Raton, while never far from the essentials, can sometimes have homes more than a mile from the front gate of their neighborhood. Places such as Boca Chase, while one of the very best communities for children and families, is far from immediate access to much. Public transit has certainly improved, and compared to some major cities is very safe, but bus travel is not a reliable means to traverse most of Boca Raton in a timely manner. For most people in most places in Boca, a family vehicle is a necessity.
For intercity travel, Brightline has seen significant expansion and growth in ridership, with the picturesque Boca Raton Brightline station now open to the public.

Potential Concerns or Safety Issues
Boca Raton, and Florida at large, has seen declining crime rates in recent years. Even in the wake of enormously surging crime in cities like Portland, Chicago, New York, Los Angeles, and more, citizens of Boca Raton have enjoyed a solid relationship with its police force and relatively low crime rates across the board. While fatal vehicle crashes are rare, a confluence of varying populations with differing driving experiences and aptitudes makes some of our roads somewhat unsafe for pedestrians, especially children. Be wary at all times of road activity, even when playing in front of the home.
For small children especially, water safety is fundamental. It is one of the greatest safety hazards to children under 5, as many homes are on the Intracoastal, canals, or have a private pool. Every child and family should undergo water safety courses and be sure they are properly supervising all activity near the water. Lastly, natural hazards, while rarer than anything listed above, are still present. Our canals should always be regarded as an alligator habitat, and anyone venturing near the water must be wary of these prehistoric predators, along with snakes and stinging insects. Florida's reputation for dangerous reptilian and aquatic animals is not baseless, but the concern of attack should be kept to a quiet, educated vigilance, rather than constant fear.
Every home, townhome, or condo should be prepared for hurricanes. This includes not only knowing how you plan to secure your home, but your belongings inside, and the supplies you'll need in the event of a power outage, water stoppage, or food shortage. When all else fails, an evacuation plan is necessary. The logistics of traveling often by road out of the state while gas, food, and water are absorbed by your fellow evacuees can cause tension and concern. Having these details ironed out in advance of an actual ecological crisis will make the stress of seeking safety much more tenable.

Getting Out And Having Fun!
Now that we've put the doom and gloom aside, don't forget where you are! This is Boca Raton - a land of glamor, riches, opportunity, safety, beauty, innovation, and stability. You've chosen to live in one of the premier resort towns in the United States, where the wealthy move and the rest of us vacation. Whatever it is that you choose to do with your free time, be sure to visit our many parks and beaches, public pools, The Boca Town Center Mall, Mizner Park, Royal Palm Place, and so much more. You're here, the lights are on, the boxes are unpacked, the kids are safe, and it's time to thrive!
For more Helpful Tips for New Residents - see below...
The 5 Most Searched Neighborhoods In Boca | The Top Schools For Special Needs Students