6 Reasons To Move Your Business To Boca Raton
Posted by Anthony Carriuolo on Friday, September 15, 2023 at 8:00 AM
By Anthony Carriuolo / September 15, 2023
Comment

Through the decades Boca Raton has grown from an idyllic waterfront prize to something so much more. While always defined by luxury, glamor, and the magnificent beaches that attract visitors from around the world, Boca Raton is now as much of a business center as a vacation destination. There are many reasons (well beyond the six listed here) to relocate your business to Boca Raton, but through our research and the discussions we have with local business leaders, we believe these six are as impactful as any. Read on and learn more about these six reasons should be moving your business to Boca Raton, FL.

Tax Efficiency
Florida is one of the best tax havens in America, especially for the personal. From the sales tax your employees pay at the register, to the many incentives to run your business with a Florida HQ. If you're relocating employees, they can expect a heightened quality of life, along with the lack of a state income tax to add to their income by subtraction. To further incentivize business relocations, the state provides many state-specific tax credits to improve your bottom line.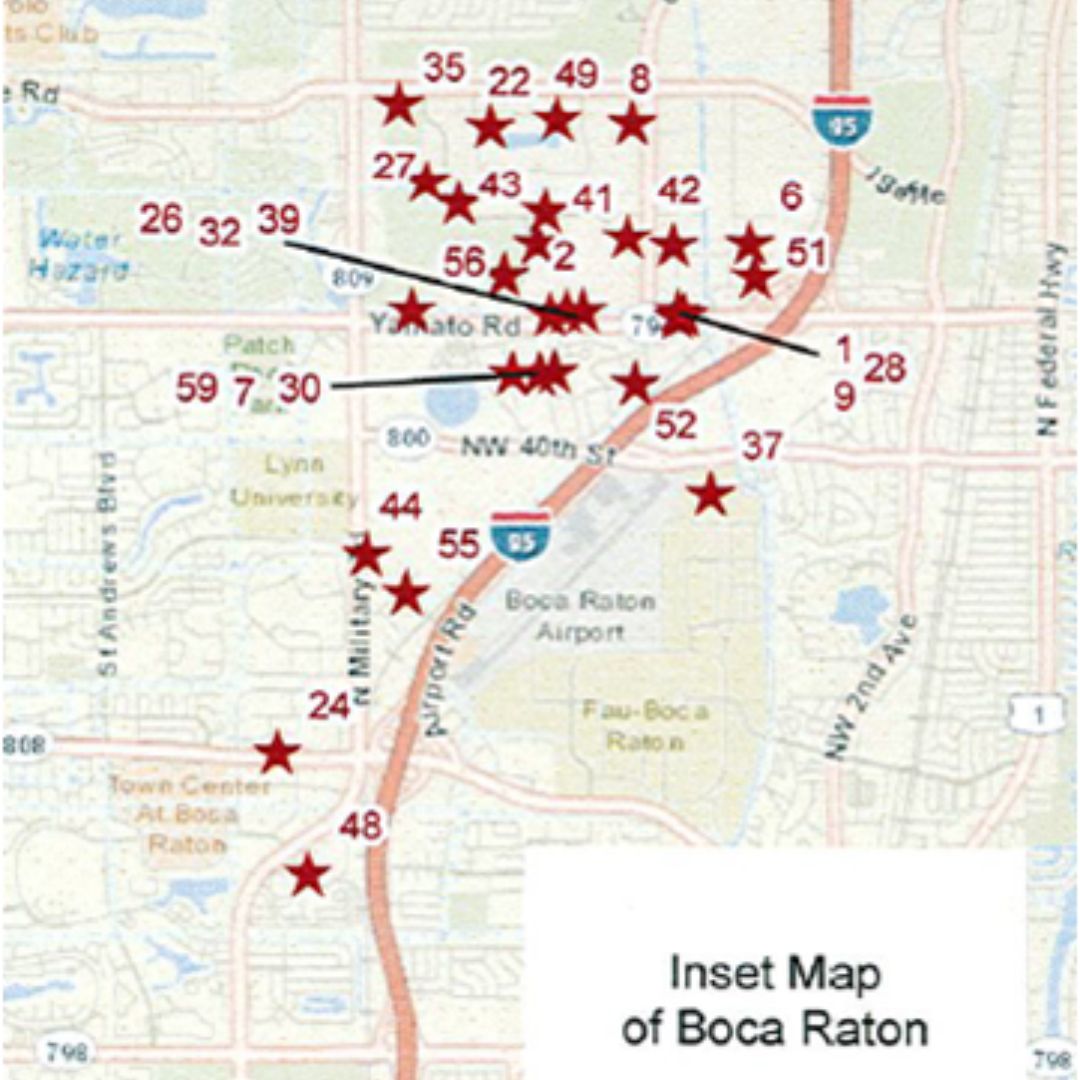 The Prime Choice For Half The County
Boca Raton, according to this 2019 Forbes Article and the map (right) is home to half of the corporate headquarters in Palm Beach County. Despite the massive influence of West Palm Beach, the presence of Mar-a-Lago and Former President Trump, and the megamillionaire mansions, Boca Raton has proven to be a dynamic environment for business headquarters. The combination of localized wealth, resources, and bustle that is distinct to this city, has attracted and maintained the flagships of several large corporations along with their lesser but still significant contemporaries.

An Upscale Customer Base
Whether you're selling office supplies, or software, or opening the latest wine bar to grace Mizner Park, Boca Raton has never been short on customers-of-means. This wealthy city attracts people who can attribute their success in part to sound business decisions and wise purchasing. If you're looking to approach the right customers with judicious purchasing decisions and the wealth to enduringly patronize your business, you should consider Boca Raton.

Infrastructural Investments
The recently opened Brightline Station in Boca Raton is the foremost example of Boca Raton investing in its presence as a business hub as much as a resort town. The city has always attracted wealth but has recently dedicated itself to attracting young, upstart technologically savvy businesses. Taking advantage of the growth in South Florida's infrastructure is one way, with the Brightline expanding to eventually track to Orlando and Tampa. Boca Raton's streets, lighting, and visual splendor is well-maintained, and the city's residents continue a positive relationship with its police and emergency forces.

A Favorable Place To Raise Your Family
Boca Raton is safe, peppered with outstanding schools, excellent healthcare, and many recreational opportunities. Even the downtown districts are among the safest and most attractive in the country. Our beaches are family-friendly, our shopping malls are clean and safe, and opportunities for natural enrichment are found throughout the town, such as at Gumbo Limbo or Red Reef Parks, both found within a few minutes of our Beachfront office.

Tap Into the Talent Pipeline
Boca Raton includes three colleges and universities within the immediate area. Palm Beach State College is flanked by both Lynn and Florida Atlantic Universities, the latter of which has quickly become one of the largest and most prominent in the state. These universities have joined forces with the aims of the Boca Raton business community and offer every company thousands of young graduates, interns, and future professionals right here at our doorstep.
To learn more about working and running a business in Boca Raton - see below...
Support These Local Boca Businesses | Real Estate Startup Expenses: What To Expect