5 Signs Your Kitchen Needs An Update: Tips For Selling Your Boca Raton Home
Posted by Anthony Carriuolo on Monday, July 9, 2018 at 2:51 PM
By Anthony Carriuolo / July 9, 2018
Comment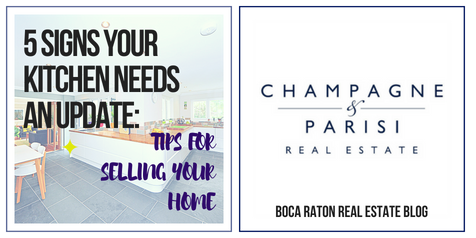 Most Boca Raton real estate agents have heard this observation from a selling client on more than one occasion: "Now that I've fixed the place up, it's so nice to live here!" Many times, this statement is followed by a wistful, "I should have done it years ago!" They don't need to add, "so we could have enjoyed it ourselves."
The culprit has to be human nature—at least the part that resists spending money improving something that works (even if it doesn't work all that well.) One of the prime areas where this tends to hold true for homeowners is in the kitchen. Though you may not mind the quirks and drawbacks that exist in your home and the limitations of the current kitchen, ignoring them is not going to make the task of selling your home any easier. When making the decision to sell one's home, especially in the highly competitive Boca Raton real estate market, it is critical that your property is able to stand out from the other available options including Boca Raton condos, townhomes, and the diverse selection of Boca Raton homes for sale.
Since it's generally acknowledged that the kitchen area is one place (if not the place) that gets the most intense scrutiny from prospective home buyers, it is also one of the first areas that sellers decide to update when placing their home on the Boca Raton real estate market. For anyone who might decide to sell their home within the next few years, that makes a pretty good argument to go ahead and make the necessary changes now while you can enjoy the upgrades yourself.
Since everyone tends to get used to their household as-is, it can be helpful to step back and consider where "as-is" could also be "has-been." We at Champagne & Parisi Real Estate have compiled a list of the top five leading signs that your kitchen would benefit from an update. If you find yourself saying "yes" to any of the signs listed below, consider addressing them to improve the chances of your home selling quickly and for the best price possible.
1.

Although everything is there (somewhere), you waste time every day rummaging for kitchen tools and ingredients. Our Solution: add more counter and cupboard space.
2.

You can't make coffee and toast simultaneously. Our Solution: electric circuitry needs modernization.
3.

You need a flashlight to read product labels. Our Solution: an interior lighting redesign or window enlargement.
4.

Electric bills are painful. Our Solution: wholesale appliance upgrades (yesterday's models can be serious power hogs).
5.

You don't enjoy spending time in your kitchen. Consider this, if the typical American spends 6 hours a week in the kitchen (for Boca Raton, that is likely an underestimate), a quality of living improvement will result if those hours are spent in surroundings that please. Our Solution: a top-to-bottom design rethink and major renovations are in order.
For sellers whose homes have been lingering on the market without success, that's the sixth, and arguably the most important sign that your home's kitchen is in need of some TLC. Prospective buyers are quick to notice when kitchens are outdated—and those who don't just move on to the next option are bound to subtract kitchen upgrade costs from any offer they make to purchase your home.
Even if selling isn't on the immediate agenda, we at Champagne & Parisi Real Estate would be pleased to share some of the cost-effective ways today's local homeowners are finding to bring attractive amenities to their Boca Raton homes and kitchens. Call us any time at 561-998-9015 and one of our expert Realtors will be happy to assist you!