43rd Annual Boca Raton Holiday Boat Parade
Posted by Stephanie Kukich on Tuesday, November 26, 2019 at 12:37 PM
By Stephanie Kukich / November 26, 2019
Comment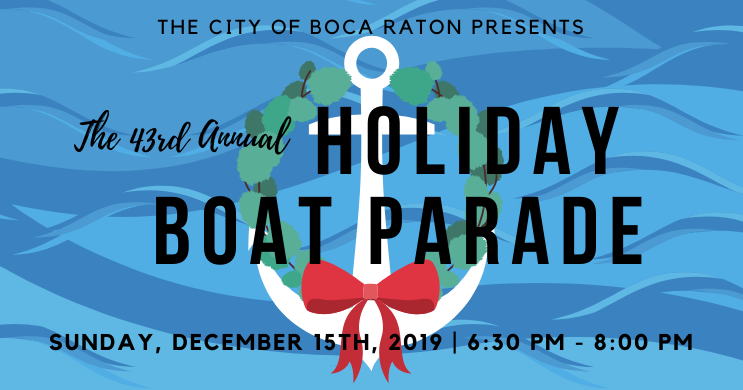 The City of Boca Raton will host the 43rd Annual Holiday Boat Parade on Sunday, December 15, 2019, from 6:30-8:00 pm. This highly anticipated annual event is the perfect way to experience the holiday season in true South Florida fashion! Parade attendees of years past will attest that you can't help but get into the holiday spirit with the festive lights glistening off the water and the holiday music flowing from the lavishly decorated vessels as they make their jolly way down the Intracoastal.
Entry in the boat parade is absolutely FREE, and vessels of all sizes, from kayaks & paddleboards all the way up to large yachts, are welcome to participate. Last year's turnout was absolutely incredible, with more than 30 boats entering the parade and thousands of onlookers! The City of Boca Raton is anticipating this year's holiday boat parade to be just as well attended and perhaps a bit more competitive.
There will be $10,000 in cash prizes for this year's winners, offering boat owners all the more reason to participate in this highly celebrated event. Parade entries are judged based on lights, colors, music, and overall effect. Winners will be determined by point total, with a total of 30 possible points per vessel. Enthusiasm also counts, so be sure to have everyone aboard waving and showing their holiday cheer when passing by the judges' stand! Please complete the Boat Parade Application to enter your vessel in the parade. The deadline for applications is Monday, December 9, 2019.
If you would rather just sit back and enjoy the show, come watch the parade from the Red Reef Park (west), Wildflower Property, or Silver Palm Park viewing areas. Each of the viewing areas will feature food trucks and vendors offering food, beverages, and desserts for purchase. The City of Boca Raton will be collecting donations for "Toys for Tots" at all three locations so be sure to bring a new toy to donate along with your appetite!
The parade route runs south along the Intracoastal Waterway, beginning at the C-15 canal located at the Boca Raton-Delray Beach city limits. The parade will travel past Spanish River Boulevard, Lake Wyman, Red Reef Park, Silver Palm Park, Camino Real, and eventually end at the Hillsboro Boulevard Bridge just south of the Palm Beach County line in Broward County.
For additional information regarding parade entry, bridge closures, viewing areas, and parking information, you may visit the City of Boca Raton's Special Events site or call 561-393-7795. You may also email Monika Amar, Community Events Coordinator, at mamar@myboca.us.
There is truly no better way to experience the holiday season South Florida-style, so be sure to mark your calendars & invite your friends and family to the City of Boca Raton's 43rd Annual Holiday Boat Parade! As always, we at Champagne & Parisi Real Estate look forward to seeing you there! Happy Holidays!