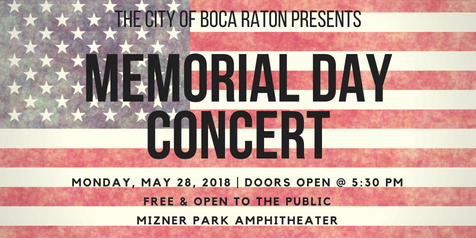 This Memorial Day, Monday, May 28, 2018, the City of Boca Raton will be hosting a FREE Memorial Day Concert event at Mizner Park Amphitheater in Downtown Boca Raton. The concert will feature awesome live musical performances by the Helmsmen, a local Indie rock group, as well as country artists, the Shane Duncan Band. The event will also feature several food trucks, including the local favorite, Tucker Duke's, serving up a variety of tasty eats & treats, so be sure to bring your appetite. There will also be a beer garden featuring a wide selection of craft beers from Boca Raton Brewery & Barrel of Monks.
The City will be teaming up with Forgotten Soldier's Outreach, a local non-profit organization that supports America's deployed military service members, to offer an area at the event where items can be donated and attendees can write a letter to a soldier. The donations and letters will be used to create "We Care" packages which will be sent to military service members currently deployed overseas. Donation items such as personal care/hygiene products and non-perishable, individually wrapped snack foods, are greatly appreciated. For a complete list of acceptable donation items please visit the City of Boca Raton's Memorial Day special event page.
The event is free and open to the public (no ticket required), with doors opening at 5:30 pm and the show beginning at 6:00 pm. Chairs...