Boca Bath and Tennis
Boca Bath and Tennis is a residential, architecturally diverse, family-oriented community situated on 163 acres of beautiful tropical landscape. Located in the center of Boca Raton, this spectacular hidden treasure has 3.5 miles of streets lined with lush, exotic vegetation. Over 90% of the families in Boca Bath and Tennis reside there all year round, definitely creating within the gates a cozy, tight-nit environment, adding to the reasons as to why it is one of the most sought after communities in Boca.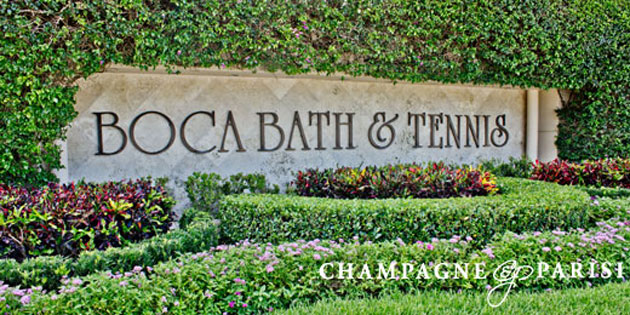 Built in the late 1980's, Boca Bath and Tennis is a true paradise. Out of all the 350 homes, no two are alike, as residents can choose build or remodel their home in any architectural style they could possibly dream of. The countless floor plans range from around 2,700 square feet to 7,200 square feet, with each estate sitting on lots of .25 to 1.25 acres. These exquisite homes offer amazing views of at least one of the 3 gorgeous lakes that rest on the property, as well as peaceful parks, and, of course, colorful foliage so prevalent in this sophisticated community. The prices of these luxury homes range from $450,000 to around $2 million.
Sroll down for Boca Bath and Tennis Amenities
Boca Bath and Tennis Homes for Sale
Boca Bath & Tennis Club
April 28, 2017
Boca Bath and Tennis Amenities
Owning a home in Boca Bath and Tennis entitles residents to a plethora of truly awesome amenities. For those concerned with safety issues, Boca Bath and Tennis is one of the first communities in Boca Raton to offer a 24 hour manned gated entrance, thus featuring around-the-clock security. Moving on, as the name implies, tennis is the main attraction in this prestigious community. Accordingly, residents of this community can choose from:
8 clay tennis courts, or

6 covered tennis pavilions, or

4 courts lit for evening play
In addition, on these courts, one can partake in yearly tennis camps, private lessons, or even men's and women's competitive leagues. But Boca Bath and Tennis's amenities don't just stop at tennis: The neighborhood also has an Olympic-size swimming pool that is conveniently heated in the winter and even cooled in the summer. While maybe not for adults, residents' children of all ages adore spending time at the state-of-the-art playground, a location strategically surrounded by beautiful oak and ficus trees not only for viewing, but also as a means to keep play time shaded in the hot summer months. And there's still more: three, brand new basketball courts, one being a regulation high school court, and the other two side courts used mostly for three point shooting practice, as well as fully-furnished racquetball and volleyball courts. Finally, the wonderful Boca Bath and Tennis Clubhouse is an ideal place for socializing, containing several rooms perfect to play cards or billiards, or even to hold your own private party.
Location-wise, Boca Bath and Tennis is honestly perfect; situated in the heart of Boca Raton, residents are just seconds away from some of the finest activities that South Florida has to offer, such as:
Pristine Beaches

Serene Natural Parks
If you are interested in learning more about Boca Bath and Tennis or viewing some of the currenty listed homes for sale, contact us by phone at (561)-998-9015. You can also use the form below and one of our Realtors will contact you shortly.
Other Gated Real Estate in Boca Raton
Navigation
To see all available developments, please click here.
Featured Searches
Latest from Our Blog
News, tips and information on the Boca
Luxury Real Estate market.
View All Posts
Preferred Providers
Browse a list of preferred home service providers in the Boca Raton area.
Find Out Now
BoCa Raton Market Stats
Pricing trends, average days on market,
and more, updated every day.
View All stats
What's My Home's Value?
Our professional analysis includes data
on recent sales and current market trends.
Find Out Now